Mercedes-Benz Stadium in Atlanta, GA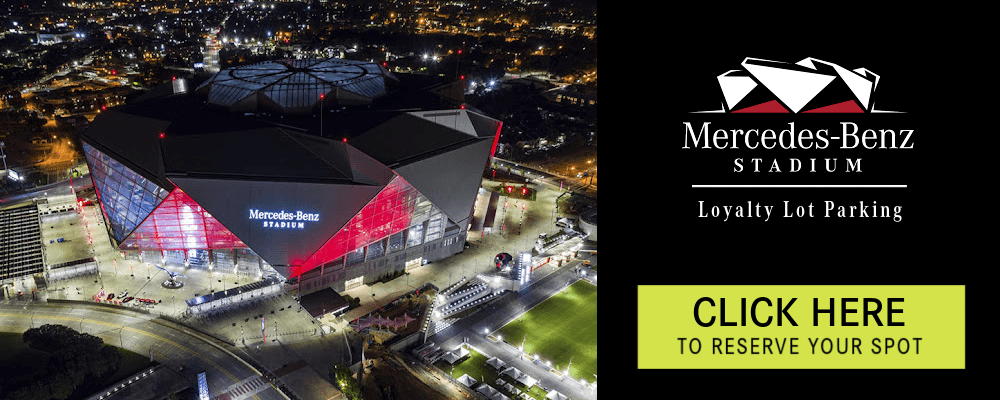 Click the image above, then select your event and choose MERCEDES-BENZ LOT listed under Available Lots.
Reservations are accepted starting at 12:00 p.m. (noon) two days before each event (the lot won't open for reservations until that time, so you can't book in advance). Keep in mind that spots are first-come, first-served and they can fill up quickly – sometimes in minutes!
Where is Mercedes-Benz Stadium Free Parking Lot?
You can access the Mercedes-Benz Loyalty Parking Lot on Northside Drive between Magnolia and Rhodes Streets. The lot is closest to Gate 1 of the Mercedes-Benz Stadium. This lot is reserved for those driving a Mercedes-Benz vehicle ONLY. If you're not driving a Mercedes-Benz, you'll be asked to park elsewhere.
Is a Reservation Required for the Loyalty Lot?
Yes, a reservation is a requirement. If you don't have a reservation, you won't be allowed entry into the Mercedes-Benz Loyalty Parking Lot. In addition to a reservation, you'll need a parking pass from ParkMobile®.
Mercedes-Benz Stadium
Mercedes-Benz Stadium, Andrew Young International Boulevard Northwest, Atlanta, GA, United States
Mercedes-Benz Stadium
Mercedes-Benz Stadium, Andrew Young International Boulevard Northwest, Atlanta, GA, United States