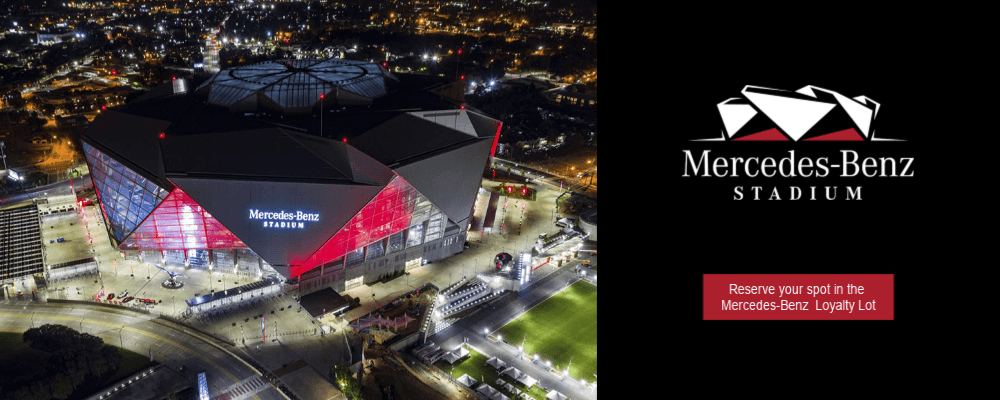 How Can I Reserve a Space in the Loyalty Lot?
You can reserve your spot easily online. Reservations are accepted starting at 12:00 p.m. (noon) two days before each event (the lot won't open for reservations until that time, so you can't book in advance). Keep in mind that spots are first-come, first-served and they can fill up quickly. If you want a spot, try to make a reservation as soon as you can!
Where is Mercedes-Benz Stadium Free Parking Lot?
You can access the Mercedes-Benz Loyalty Parking Lot on Northside Drive between Magnolia and Rhodes Streets. The lot is closest to Gate 1 of the Mercedes-Benz Stadium. This lot is reserved for those driving a Mercedes-Benz vehicle only. If you're not driving a Mercedes-Benz, you'll be asked to park elsewhere.
Is a Reservation Required for the Loyalty Lot?
Yes, a reservation is a requirement. If you don't have a reservation, you won't be allowed entry into the Mercedes-Benz Loyalty Parking Lot. In addition to a reservation, you'll need a parking pass from ParkMobile.
Do I Need to Drive to the Loyalty Lot to Use a Parking Space?
Yes, you'll need to drive to your Mercedes-Benz to the Loyalty Lot to be able to park in your reserved space.
Learn More from RBM of Alpharetta!
Do you have additional questions about the Mercedes-Benz Stadium in Atlanta, GA, and how to park in the Loyalty Lot? Contact us at RBM of Alpharetta for assistance. You're also welcome to visit us near Atlanta and Cumming to speak with one of our friendly staff members in person.