How to Keep Your Unused Car Healthy

Whether you're working from home in Alpharetta or you simply prefer to walk or bike wherever you can, there are many reasons you might not actually drive your vehicle very often. If you are a car owner who only uses your vehicle once per week or even less, there are some important service factors you must consider in order to keep your car healthy. While it may look to be in perfect shape from the outside, components like the battery and brakes can suffer without regular use. In this comprehensive guide, the service team at RBM of Alpharetta provides tips for how to keep an unused car healthy.
---
Will My Car Battery Die Without Use?
It is absolutely possible that your car battery will die if your vehicle goes undriven for too long, but exactly how long is 'too long?' It depends on the age and type of the battery. Here are the key factors to know:
Modern vehicles have high-tech features that utilize multiple computers. Even when your vehicle is off, those computers are always on. So, if you're not starting your vehicle up regularly, the computers can slowly drain your battery until it dies. Depending on your circumstances, your car's battery could die in as little as two weeks without use.
You can avoid a dead battery by starting your car up once per week and letting it run for about 5 to 10 minutes.
If you're not going to be driving your vehicle after starting it, remember to open the garage door or park your car in the driveway to allow for proper ventilation while it's running.
Additionally, you could look into a battery tender or battery minder which can be plugged into a household outlet in your garage to keep your battery at the proper voltage at all times. Just be sure you remember to disconnect the battery tender the next time you need to drive your car.
---
Will My Brakes Suffer Without Use?
Yes, it is possible for your car brakes to be negatively affected when your car sits in the garage or driveway for too long in Cumming. It's common for the rotors to rust on a car that isn't driven often, especially if it is kept outside. Preventing this is as simple as heading out for a short drive just once per week, for at least as long as you would run your car to keep the battery in proper condition. Driving around should clear the rotors of any film or rust that may have started to form.If you park on an incline with the parking brake always on, it's a good idea to set and release it from time to time. Many modern parking brakes are cable activated and are better maintained if you reduce the tension periodically.
Will I Get a Flat Tire?
Even if you're sure there are no leaks in your tires, it's recommended to check the tire pressure regularly. Tire pressure naturally fluctuates, especially during temperature changes, which can have an impact on your tires' lifespan and possibly affect the safety of your vehicle when you drive it. When you know you aren't going to be using your vehicle for a while, it's actually okay to overfill your tires a bit (no more than 5 to 10 PSI over the manufacturer's recommendation). Doing so will help to prevent flat spots from forming.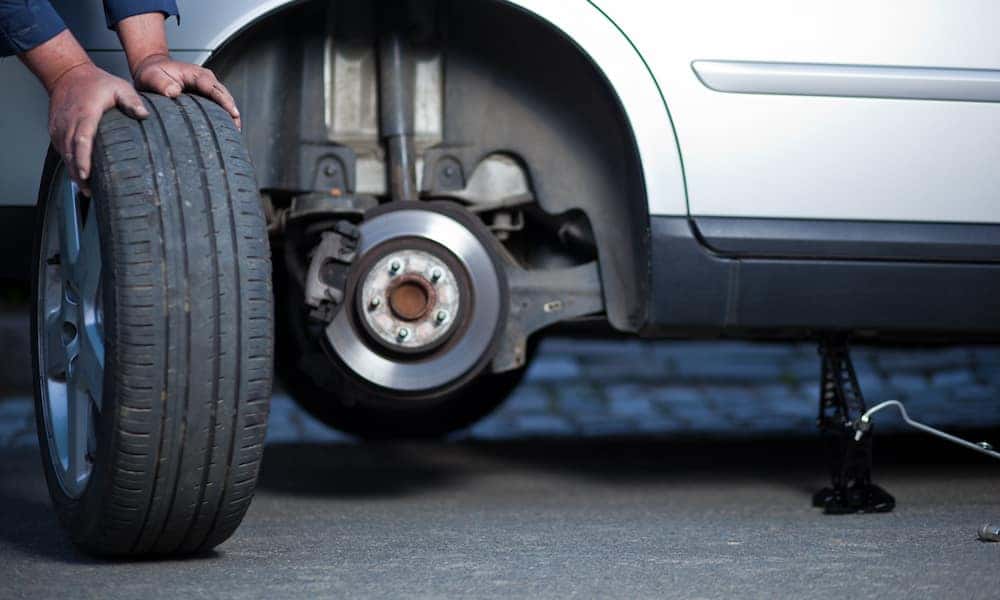 ---
Can the Gas in My Tank Get Too Old?
It's possible for gasoline to degrade over time, but your car's fuel system is sealed and should minimize any potential issues. However, keeping a full tank at all times can help to reduce the risk of deterioration and tank condensation. As an added bonus, whenever you do need to use your car you'll always be ready to go without a trip to the pump! If you are especially worried about the gas in your tank going bad over time, you can consider using a fuel stabilizer as an extra defense.
Contact Us With Additional Questions!
Have lingering questions about how to keep your unused car healthy? At RBM of Alpharetta, our friendly service team is always happy to assist! Contact us online or call us directly at today for answers you can trust. When your car is due for maintenance, you can schedule service online and consult our service specials for tire savings, brake service specials, and much more!
---
Explore Our Models
Ready to kick gasoline to the curb? We've got the remedy for high gas prices thanks to the luxurious, family-friendly 2023 EQS fuel efficiency. It's an EV, so you won't spend a dime at the gas station, and you'll get plenty of power in your Atlanta garage with a Level 2 home charger installed. But…

The 2024 Mercedes-Benz GLE is a luxury SUV that is rich with features, making every mile more comfortable on the Atlanta roads. There are four Mercedes-Benz GLE SUV configurations, including a plug-in hybrid variant. Which new GLE SUV is the perfect one to add to your Cumming-area driveway? RBM of Alpharetta is here to help you…

Prepare to witness a revolution in sustainable transportation. The 2023 EQS is not just another electric vehicle; it is a pioneering force propelling EV technology to unprecedented heights. This exquisite luxury sedan seamlessly combines the joys of driving with a commitment to eco-friendliness. Elevating your motoring experience to new levels, the EQS introduces groundbreaking…