When you've been out running essential errands in Atlanta or exploring Alpharetta's most scenic areas from the comfort of your car, it's a good idea to sanitize your vehicle of any unwanted germs and bacteria – coronavirus or otherwise – that may have made their way in during your journey when you return home. Drivers of Mercedes-Benz vehicles and other premium models will want to know, how can you sanitize a car of coronaviruses and other germs and viruses without damaging the luxury materials? Let's find out!
---
Can I Keep Hand Sanitizer in My Car?
As a part of coronavirus preventative measures, many drivers tend to keep a large pump bottle of hand sanitizer in their vehicle for personal health protection. This is certainly an important practice to follow, but it poses a risk that many aren't aware of. When exposed to extreme Georgia heat, that bottle of hand sanitizer can actually begin to boil, expand, and explode! The last thing you want is to have hand sanitizer all over your cabin, so you're better off keeping a travel-size sanitizer with you instead.
Sanitizing Hard Touch Surfaces
After making your way around town to grab groceries, fuel up, stop at the post office, or whatever else your day may hold, disinfecting your vehicle is an essential component of helping to prevent the spread of germs and viruses to both yourself and your passengers. Is it safe to use disinfectant wipes in your luxury vehicle? Yes, but only on non-leather, hard-touch surfaces like cupholders, air vents, window controls, door locks, door handles, etc. Many of these hard-touch surfaces also happen to be high-touch areas, so don't be shy about hitting them with disinfectant.
---
Cleaning the In-Vehicle Touchscreen Display
Your vehicle's touchscreen display is a high-touch area that is used during every drive, so you'll want to clean it frequently. Avoid any alcohol- or ammonia-based cleaning products or wipes, as they can stain and discolor the touchscreen surface. A safe alternative would be to dampen a soft, clean cloth with lukewarm water and gently wipe the screen. You should not apply any pressure as you wipe the screen, and your cloth should be damp, not soaking. Alternatively, you can use a computer screen cleaning product from an office supply or electronics store.
How to Sanitize Leather Surfaces Without Damaging Them
Many Mercedes-Benz drivers opt for the luxury of high-grade leather seating and interior trim. As you move through your Johns Creek vehicle's interior to disinfect it, you will want to be careful not to damage the leather. A water-based disinfectant is recommended, such as a mild, fragrance-free soap that has been diluted with warm water.
Prepare your mixture of mild, fragrance-free soap and warm water.
Before wiping the seats down, use a soft-bristle vacuum cleaner attachment to remove any surface dust and debris that may exist; removing it beforehand will prevent it from scratching your leather upholstery when you wipe it down.
Dip a soft, clean cloth into your cleaning solution, then wring it out so it is damp but not soaking.
Gently wipe down your seats and any other leather surfaces within your vehicle, focusing on high-touch areas like the steering wheel, armrests, and center console.
Finish with a dry cloth to wipe down any areas that may still be damp.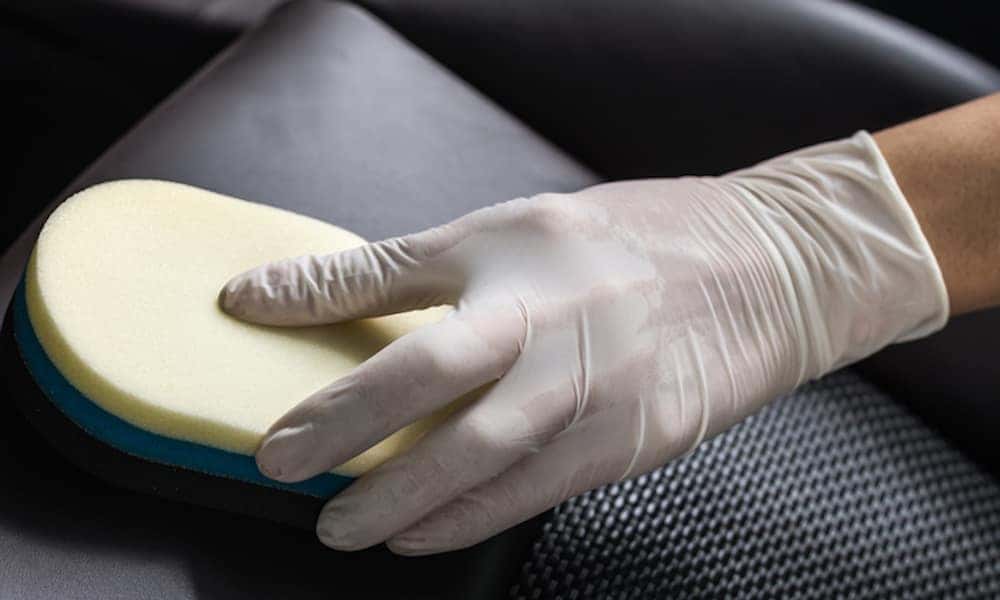 ---
What Products Should Not Be Used in Your Vehicle?
Cleaning products that contain bleach or hydrogen peroxide are great for disinfecting surfaces in your home, but they are not recommended for use in your vehicle. Such products can dry out your luxury vehicle's plush upholstery, and there's an added risk of discoloration or cracking. Additionally, anything containing ammonia should be avoided, which is commonly found in glass cleaners.
Have Questions? Contact Us!
If you have any further questions about how to sanitize a car of coronaviruses and other germs, or are unsure whether a product you have is safe to use inside your vehicle, don't hesitate to contact our service team! Our friendly associates are standing by and always happy to help our Alpharetta community.
---
Explore Our Models
Ready to kick gasoline to the curb? We've got the remedy for high gas prices thanks to the luxurious, family-friendly 2023 EQS fuel efficiency. It's an EV, so you won't spend a dime at the gas station, and you'll get plenty of power in your Atlanta garage with a Level 2 home charger installed. But…

The 2024 Mercedes-Benz GLE is a luxury SUV that is rich with features, making every mile more comfortable on the Atlanta roads. There are four Mercedes-Benz GLE SUV configurations, including a plug-in hybrid variant. Which new GLE SUV is the perfect one to add to your Cumming-area driveway? RBM of Alpharetta is here to help you…

Prepare to witness a revolution in sustainable transportation. The 2023 EQS is not just another electric vehicle; it is a pioneering force propelling EV technology to unprecedented heights. This exquisite luxury sedan seamlessly combines the joys of driving with a commitment to eco-friendliness. Elevating your motoring experience to new levels, the EQS introduces groundbreaking…