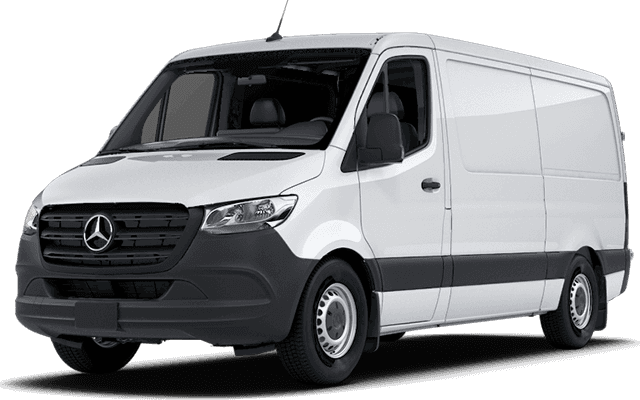 2019 Mercedes-Benz Sprinter
2019 Ford Transit
2019 Mercedes-Benz Sprinter vs. 2019 Ford Transit
Commercial vans are the perfect asset for any business in the Atlanta and Cumming area. At RBM of Alpharetta, we know how important it is for companies to find a van that will provide them with the right features and reliability to get the job done. We're here to help you choose the right van for your needs and budget by comparing the spacious Mercedes-Benz Sprinter vs. Ford Transit. Find out more about the differences between these two contenders in space and strength, and see why the new Mercedes-Benz Sprinter has more to offer!
2019 Mercedes-Benz Sprinter
9-speed automatic w/OD and auto-manual
6-speed automatic w/OD and auto-manual
Mercedes-Benz Sprinter vs. Ford Transit: Key Features
While the base model Mercedes-Benz Sprinter Van is slightly more expensive than the base model Ford Transit Van, you get more bang for your buck when it comes to key features with the Sprinter. The new 2019 Mercedes-Benz Sprinter cargo and passenger vans have upgraded their models to include more convenient amenities and high-tech advancements. Some features the Sprinter has that the Ford Transit doesn't are:
Mercedes PRO connect: Communicate and track your fleet with ease with this all-in-one connectivity platform
Keyless start
Optional Multimedia system with touch screen (MBUX)
Optional Active Brake Assist: This innovative safety feature warns the driver of any oncoming danger or obstacle on the road.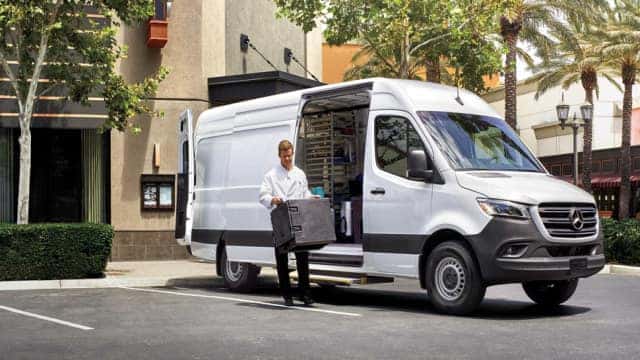 ---
Mercedes-Benz Sprinter vs. Ford Transit: Dimensions & Capabilities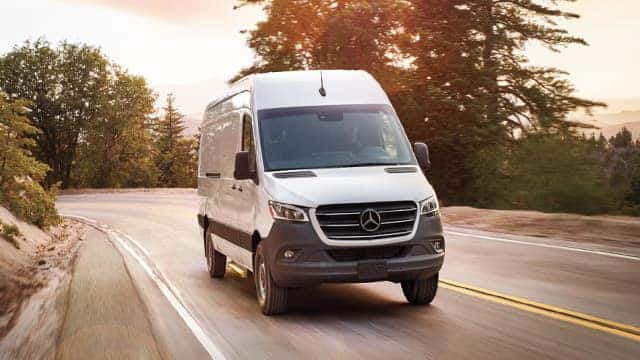 When looking for a new van, space and capabilities matters. While both vans are good options, the Mercedes-Benz Sprinter Van reigns supreme when it comes to maximum payload capacity and passenger room.
Mercedes-Benz Sprinter:
Seat capacity: Up to 3 people
Max Payload Capacity: 3,854 lbs
For Transit:
Seat capacity: 2 people
Max Payload Capacity: 3,000 lbs
---
Find the Right Mercedes-Benz Sprinter Van for Your Needs at RBM of Alpharetta
At RBM of Alpharetta, we want to help you find the perfect van for you. Feel free to browse the various Mercedes-Benz Sprinter Van trim levels for the right features and price for your business. Whether you're interested in a crew van, cargo van, or passenger van, our experienced finance team has you covered. Contact us today or come to Alpharetta for a test drive!